Welcome to Thimble Labradors!
We are a small hobby kennel located in what we call "our little bit of paradise" in Western Coventry, Rhode Island.
We have been breeding and raising Labrador Retrievers for over 25 years.
We consider all of our dogs to be members of our family. They all are in our home. We like to say "we live with our dogs, they don't live with us!"
We are members of the Pawcatuck River Labrador Retriever Club (PRLRC) and members of the Labrador Retriever Club (LRC)
We feel very fortunate to have met many wonderful friends in the Labrador Retriever world and we're thankful for the knowledge willingly shared with us over the years. A very special thank you to Tina Barks, Bellwether Labradors, for her guidance and assistance; and for raising our foundation bitch, Bellwether Repeat (Rita).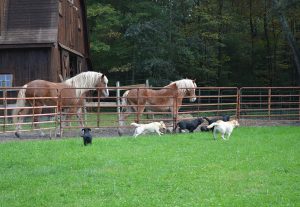 Our goal as breeders is to produce the best English type Labrador Retriever with the qualities listed below:
Soundness – Excellent health is our first priority.
Temperament – A happy dog with a tail that always wags and a butt that always wiggles! Wet sloppy kisses are a plus!
Intelligence – Easy to train and eager to please.
Beautiful to look at.
Well socialized – Confident meeting different people and challenges in different locations.
An outstanding companion – who loves to be with his/her family, whether in a car or on the couch.
To achieve this goal:
Our girls have all age appropriate clearances.
We select the best stud dog available.
Litters are born and nurtured in our homes.
We utilize:
Over the years, we have produced Show Dogs, Obedience Dogs, Hunting Dogs, Tracking Dogs, Therapy Dogs for the NEADS Organization and for PVD Pups (Airport Therapy), CGC (Canine Good Citizen), and MUCH LOVED pets!!!!
We are proud to say we have many families who return to us for another pup to add to their family!!!
We are very thankful for the updates and photos our Puppy Families send to us on a regular basis – does the heart good!!!
AND we are humbled by the many referrals our Puppy Families send to us!!!!
We often have a waiting list for our puppies.